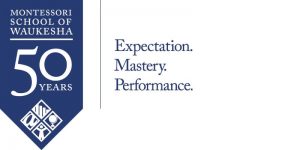 Montessori School of Waukesha hired Karl James & Company to support its 50th anniversary by developing an event strategy and theme: Expectation. Mastery. Performance. The golden anniversary presented a rare opportunity to tell the school's story better, more often and more meaningfully with regard to what is driving key audience decisions that impact its agenda.
Karl James designed an identity and theme to ensure brand consistency in all anniversary and fundraising communications. Creative elements and messaging were supported by public relations and executive communication counsel and support. The theme and identity where designed to outlive the year-long celebration by positioning the school for the next 50 years of growth with a complete branding guide to ensure all involved consistently applied the new identity.
Creative concepts were designed to be used across platforms in supporting the open house, gala, capital campaign and other opportunities to tell the school's story throughout the year. The theme gave us a foundation to showcase the school as worthy of support among elected officials, donors, business leaders, parents, students, staff and volunteers. An interactive microsite was designed to capture data of key audiences to improve communication going forward.